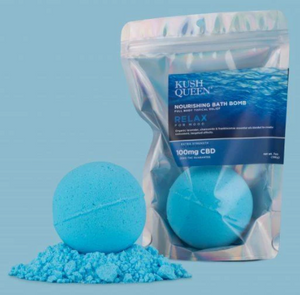 CBD Bath Bomb Relax 100mg
Our Relax CBD Bath Bomb was created to not only relax the body, but to help stabilize the mood as well. A beautiful blend of Lavender, Chamomile and Frankincense come together to assist in the overall body and mind relief while giving your immune system the healthy boost it needs.
How it Works:  Our Relax bath bombs were created with the Entourage Effect in mind. The Entourage Effect occurs when you combine cannabinoids with terpenes/essential oils. Each blend is more than a scent, it is an experience. Our nourishing Relax bath bombs combine the power of organic essential oils and cannabinoids to create effect-specific full-body experiences.